German European School Manila (GESM)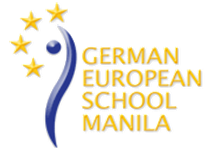 The German European School Manila (GESM) is a German school abroad in Parañaque City in the greater region Manila in the Philippines. GESM is accredited by the Department for Foreign Affairs in Germany, the Philippine Education Board and by the IBO (International Baccalaureate Organization) and is part of the International Network of UNESCO Project Schools.
The DESM is a G-8 school that teaches it's German profile along the German curricula and educational standards up to the 10th grade. The educational programms range from kindergarten and preschool to the advanced level, leading to the International Baccalaureate. The GESM shares its facilities with the Lycée Français de Manille (LFM) at the Eurocampus Manila in Parañaque. There are 6 Eurocampus schools worldwide.
In 2011 the DESM was awarded with the seal of quality "Exzellente deutsche Auslandschule".In 2017, this status was confirmed during a re-inspection.
For further information visithttps://www.gesm.org